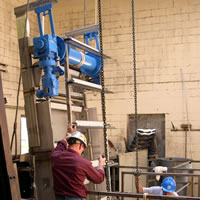 We have been providing sound, proven and experienced solutions to Florida's water and wastewater industries since 1987.
The manufacturers we represent within the State of Florida offer a variety of equipment solutions to meet current industry standards and needs. At Equipment Plus Solutions, we combine years of industry experience with the expertise of the companies we represent to offer sound engineered solutions.
Our business is built upon integrity, strong customer service and personal relationships.
Please take the opportunity to review our Product Line Card, current Newsletter and Video Page for more insight and information about us.
Mechanical
Barscreens
Odor
Control
SRS Crisafulli
Rotomite Dredge